Space Prime
Space Prime leverages a diverse industry partnership engagement strategy to identify nascent space technology sectors that, if "primed", could advance U.S. national security and economic prosperity. Prime engagement is not limited to government investment, but also allows SpaceWERX to address key policy concerns as well as offer testbeds and platforms to advance capabilities.
Mission – "Prime the pump to accelerate the commercial market and stimulate industry investment."
Orbital Prime
The first Space Prime effort, Orbital Prime will invigorate the On-orbit Servicing, Assembly, and Manufacturing (OSAM) market using Active Debris Remediation (ADR) as a use case for the foundational technologies. As congestion and debris threaten the long-term sustainability of the space domain, Orbital Prime will transition agile, affordable, and accelerated OSAM space capabilities to build the foundation for space logistics while preserving the global commons. On-orbit capability will be demonstrated on an accelerated timeline in two to four years.
Vision: Accelerate transition of technologies and architectures that enable a sustainable space infrastructure and preserves an open and prosperous space domain.
Objectives:
Develop the OSAM market and partnerships: Orbital Prime will help stimulate a safe and secure domestic OSAM market and supply chain through partnerships with academia, industry, investors, interagency, and allies. These partnerships will reduce technical, regulatory, and financial risk.
Aggressively pursue emerging technologies: Orbital Prime will pursue three OSAM ADR technology tracks: 1) Resident Space Object (RSO) approach through Rendezvous Proximity Operations (RPO); 2) RSO acquisition and docking; and 3) RSO servicing, to include repairing, repositioning, refueling, deorbiting, reusing or recycling, etc.
Rapidly transition on-orbit capability: Using several tools, demonstrate ADR with dependable commercial partners and transition to an enduring, agile, and accessible ADR service.
Benefits:
Build the technical foundation for OSAM, ADR, and Space Logistics
Inform buy or build decisions for the U.S. Space Force
Fuel dual-use capability technology maturation through partnerships with academia, industry, investors, interagency, and allies
Enable long-term investment and scaling opportunities for companies
Discover/develop new capability transition paths
Investment: Orbital Prime STTR Solicitation Cycle is open! 
Orbital Prime will utilize various investment mechanisms including, but not limited to, the Small Business Innovation Research (SBIR), Small Business Technology Transfer (STTR), and Strategic Funding Increase (STRATFI) processes to invest and drive technology maturation in areas of interest. Future opportunities will direct additional investment starting in Spring 2022.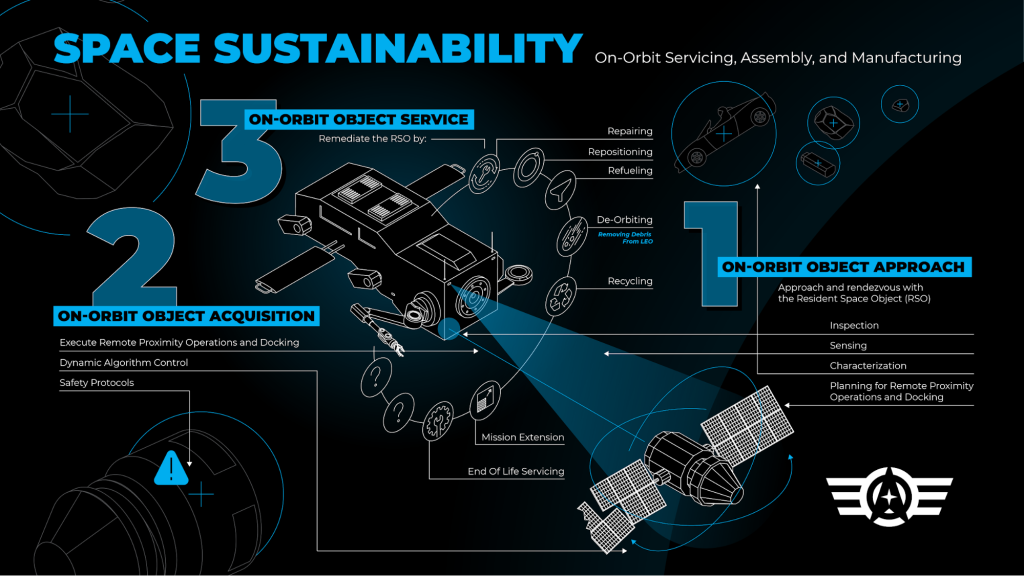 Technical Tracks:
On-Orbit Object Approach: Approach and rendezvous with the Resident Space Object (RSO), to include space debris, etc., using approach and Rendezvous Proximity Operations (RPO) algorithms
On-Orbit Object Acquisition: Capture and Control the orbital object and/or perform Rendezvous Proximity Operations Docking (RPOD)
On-Orbit Object Service: Remediate the RSO by repairing, repositioning, refueling, deorbiting, reusing or recycling, etc.

Program Overview
Click below to view a program overview.
Download
Get Involved
To view past webinars about Orbital Prime and STTR solicitations, please click the appropriate session below. 
2021
2022
Frequently Asked Questions
Click below to view a regularly updated list of frequently asked questions.
Download
Orbital Prime D2P2 Company Awardee Announcement